24-bit Sigma Delta A/D Converter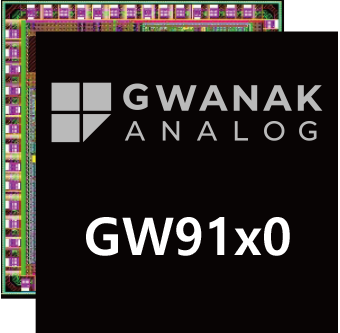 The GW91x0 is a sensor signal conditioning read out IC for highly accurate amplification, digitization, and sensor-specific correction.
The GW91x0 is designed for use with bridge sensors with resistive or voltage output. The programmable integrated sensor interface allows applying various sensors for a wide range of applications.
The GW91x0 provides measurement value readouts and programmable capabilities via an I2C, SPI or single wire interface(SWI).
It integrates an analog front end, a sigma-delta ADC, a sequencer, and control registers. The programmable sequencer can be used to read out ADC data accumulated and averaged depending on the application. The GW91x0 average mode can eliminate the minimum and the maximum value.
Calibrated, continuously operating sensors with digital interface.
Pressure, flow, and level sensing
Industrial applications, e.g., process/factory automation
Consumer/white goods, e.g., HVAC, weight scales
Medical applications, e.g., blood pressure, continuous smart health monitors
Basic Application Diagram